Urban planning is a dynamic field that can often take you out of the office, but you still need access to the tools of the trade. Luckily with everyone equipped with smartphones, this is not only possible but incredibly easy. Today we will take a look at some of our favorite mobile apps for urban planners to assist with mapping, sketching, calculations, and accessing models on the go.
A few years ago Planetizen conducted a survey to see what are the most popular mobile apps used by planners. They invited planners from various sectors (private, public, academia, advocacy) to participate. We loved this idea but wanted to expand and update the list to share the current best city planner apps to help you become more effective and productive.
Mapping
Urban planning requires spatial analysis, visual presentation, and systems modeling. Who says projects have to happen behind the computer? These mobile apps will help you access your maps wherever you are.
ArcGIS has a depository full of apps for specific tasks in the office or on the go. They assist planners with improving the efficiency and accuracy of field operations. Available for desktop, Android, and iPhone devices.
QField for QGIS is a mobile app for Android that allows you to use QGIS projects on the go. QGIS is a free open-source alternative to ArcGIS.
Google offers Google Earth, Maps, and Street View free of charge on every device.
OsmAnd is a companion for OpenStreetMap. The app allows for offline use of maps. It is available for Android and iPhone.
Looking to import OpenStreetMap data into your SketchUp projects? Check out this guide to see how Modelur accelerates and refines the process.
Mapillary is a collaborative street-view mapping app that utilizes images to create a street-level view of the world. Anyone can contribute to the map with their own photos taken straight from their mobile device. It also allows for integration with OSM and ArcGIS. Available for iPhone and Android devices.
Site Design
Occasionally planners will need to create or make changes to a plan while on-site and luckily there are tools to accomplish this.
The AutoCAD mobile app is the perfect assistant allowing you to create and edit 2D drawings on your phone. Available on Android and iPhone.
SketchUp Viewer gives planners the ability to present their 3D models from their mobile phone. The app also provides the ability to give information about measurements, switch perspectives, toggle on and off layers, and AR viewing.
iRhino 3D allows you to view your Rhino files on the go. The app allows for the ability to browse files, download from any server, open 3DM files attached in emails, and more. Available only on iPhone.
SketchUp and Rhino users don't forget to check out Modelur's parametric plugin designed with urban planning and architects at the heart. Start your free trial today (no credit card required).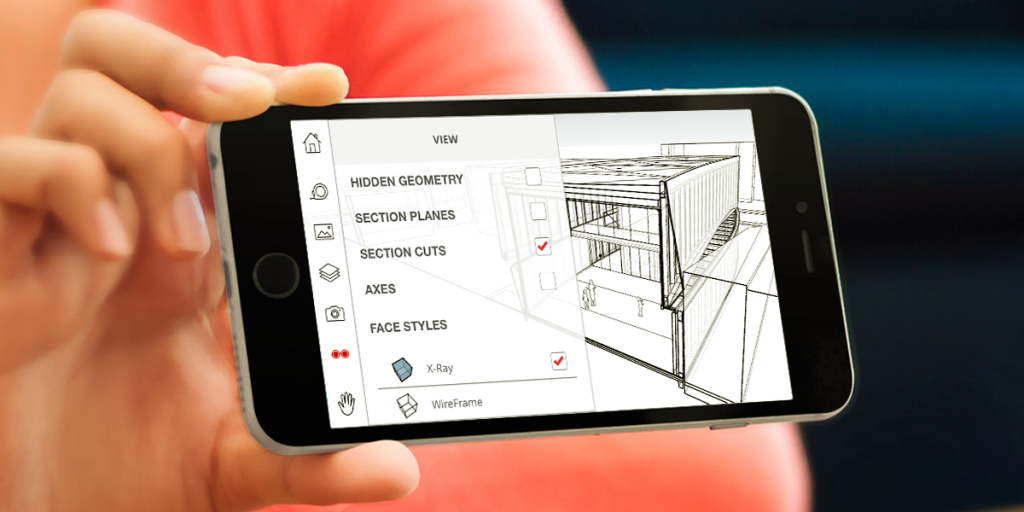 Data
If a part of your job as a planner is to inspect and review current urban conditions, analyze different parameters, and problem solve then you will love these apps. They give you your project's data at your fingertips and the ability to edit, calculate, and create reports from your mobile device.
Fulcrum is an app that streamlines collecting and accessing data wherever you are. It allows you to take photos, videos, and GPS location of objects and makes the data accessible to your team instantly. Available for iPhone and Android.
Go Canvas is an alternative to Fulcrum. It allows for the seamless integration between work in the field and back in the office. Their industry-specific templates for transportation, sustainability, and accessibility make it a great companion for any planner. Available on all devices.
Builder's Helper MAX is an iPhone app that helps with construction calculations and organizing your projects. It has the ability to calculate and recall linear, square, cubic, and triangular measurements with ease.
ArchiSnapper is an app to help with field reports and punch lists designed for architects, engineers, and other professionals. The app provides tools to help with on-site inspections, checklists, photos, branded reports, and much more. Available on both Android and iPhone.

Drawing
Imagine inspiration strikes when you are not at home or the office. You need a blank space to sketch out an idea or solution or maybe just to jot down some notes to remember from an inspection. These apps are loved by urban planners and architects for their daily 2D sketching needs.
Sketchbook is available for desktop, iPhone, and Android and is a professional drawing and painting software. This app also allows for integrations with Revit and AutoCAD.
Morpholio combines the limitlessness of sketching software with the ease and precision of CAD. It also provides smart fill, calculations, and has an AR mode. Available only on iPhone and iPad.
Concepts is a flexible sketching app available for desktop, Android, and iPhone. It provides a responsive and intuitive design for a faster workflow. This app is available for free for up to 5 layers.
However, if you are interested in 3D sketching while on the go, you might want to take a look at SketchUp Free or Autodesk's Tinkercad.
AutoCAD WS allows for access to AutoCAD drawings from a browser or mobile phone.
Productivity and Project Management
Being a planner is not only about sketching, mapping, and calculating. We also work as part of a team. These productivity and project management apps are tools we can't live without. They relieve the stress around organizing meetings, to-do lists, and workspaces.
Doodle provides group scheduling of events and meetings. No more endless emails back and forth with colleagues to plan a simple meeting. Available on iPhone and Android.
Todoist is a popular to-do list app that also goes beyond the traditional checklist to-do list. Templates are also available for meeting agendas, annual reviews, campaign tracking, client management, and more. Available for all devices.
Trello is a project management program used to help teams organize and collaborate on projects. Easy and intuitive to use with a wide range of integrations including Slack and Dropbox. Available for iPhone, Android, and desktop.
Orgzly is an Android-based app for taking notes and managing to-do lists. It also provides the ability to sync notes to Dropbox.
Basecamp is an all-in-one tool to help your team work together wherever they are. Workspaces can be created and shared with group chat, documents, task lists, scheduling, and more. Available on iPhone, Android, and desktop.
Many communication apps have taken a priority over the past year so there is no need to explain what each of these does. Each app eases the communication with your team from home, the office, or on the go. Some favorites used by city planners include Slack, Telegram, Skype, and Zoom.
Easily share files and data through Dropbox and Google Drive.
One last aspect of being organized and productive is note-taking. Whether you are taking notes at a meeting with a client or when inspiration strikes you want to be sure that your content is safe. These apps help with organizing your notes and projects – regardless of length. Evernote, OneNote, Penultimate (iPad only), and Notion.
Photo Editing
Smartphones typically come with a standard camera capable of taking high-quality photos but what if you need to do some edits or take notes on the photo? Then you might need a mobile app for photo editing. Photoshop is great but can have a big learning curve. An alternative for the less Adobe agile would be Snapseed, Google's answer to photo editing.
Social Media and Community Engagement
While social media isn't exactly a tool to get your work done, it is an excellent tool for networking with the industry and communicating with the public. Here are a few tools that we enjoy.
Pinterest is like an online pinboard where you can pin ideas for new designs. You can share pins with your colleagues and browse through pins from your area of interest to get new inspiration.
LinkedIn is built for networking and getting to know new people in your field of expertise. You can also search the database of people and businesses based on their field of expertise. By using LinkedIn, you can find new business partners and present yourself to potential clients.
Twitter is one of the best tools to engage in a discussion, share your views and ideas. For example, it can be used to present a plan and invite people to a public hearing or a discussion.
What are your favorite apps?
We hope that you found some of these recommendations useful. We would love to hear which apps for urban planners are your favorite? Which one can you just not live without? Please let us know in the comment section.