In previous articles, we discussed the parametric features and interactive design aspects of Modelur, and how these features save you time while producing more accurate results. Another feature that Modelur offers is real-time calculations that allow you to focus on design rather than spreadsheets.
Today we will look at four instances where Modelur's real-time calculation features can improve urban planners' and architects' workflow and design. These features track changes made to your model in SketchUp, prepare financial estimations, create instant urban massing, and assists with required parking estimations.
Urban Control Data Table to Stay Organized
The Urban Control Data Table is at the heart of Modelur. Any changes made to your model in SketchUp will be reflected in the data table and vice versa. This means no more flipping back and forth between your model and spreadsheet so you can focus on design.
The data table can also be used to locate buildings. Simply click on a building row and Modelur will select its 3D counterpart in SketchUp. This also works in reverse by clicking on a building in the model and the Urban Control Data Table will highlight its data in light blue.
Which data the Urban Control Data Table tracks can be modified by selecting which data points to include or exclude such as whole plot, land uses, buildings, and complex buildings. The data table can be accessed inside Modelur under Tools, and also exported as a .csv file. Allowing for the export of urban control values such as FAR. 
Another valuable benefit of this feature is that when submitting proposals to urban planning and design competitions, a spreadsheet with these data points and calculations needs to accompany your model. Modelur takes the stress out of getting it right and even takes it one step further with LiveSync for Excel.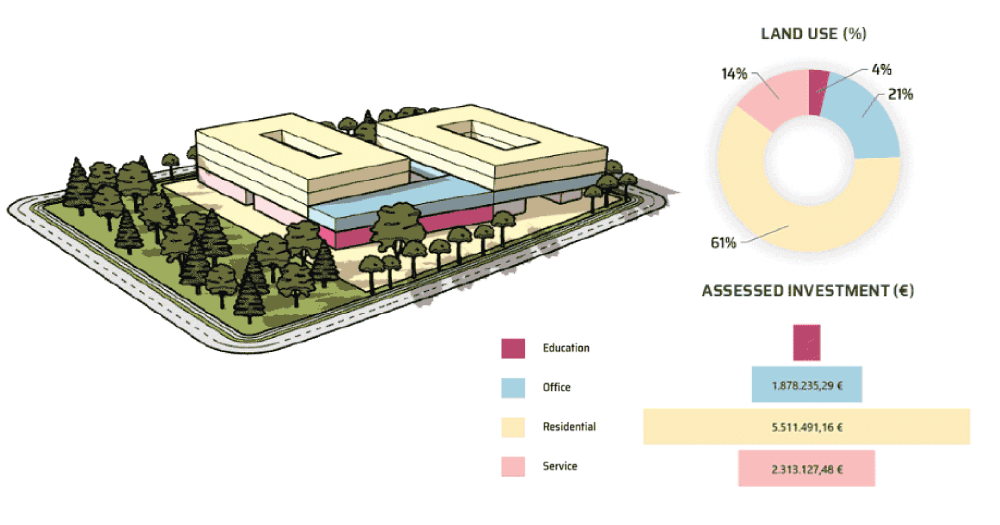 LiveSync with Excel (Windows only)
For Windows users, there is LiveSync for Excel inside Modelur that allows you even more control over your database. It exports key urban performance indicators (via the Urban Control Data Table) and if any part of the development is later modified, LiveSync updates the data instantly inside Excel.
There is no need to keep track of minor adjustments and hoping that your spreadsheet and model are the same. To use LiveSync with Excel, click 'Send Modelur Data to Excel', it will open up Microsoft Excel and populate it with data from the Urban Control Data Table. Learn more about how Modelur works with Excel.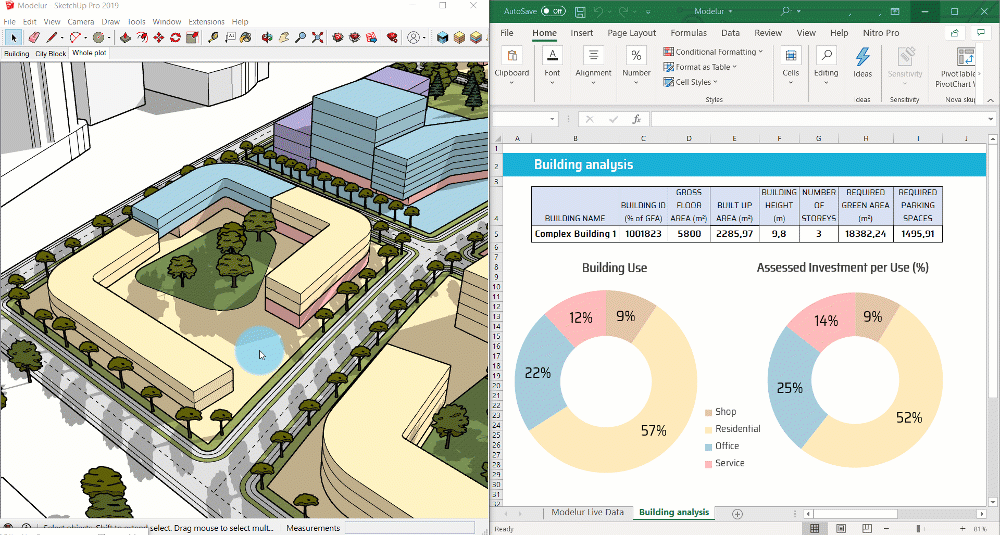 Financial Estimations Ready for Stakeholders
A feature inside Modelur that clients love is its financial estimations. These calculations are determined by your customized settings and then managed within the Urban Control Survey.
Each land use that will be applied within your project can have an assessed investment and income for cost per m2. To begin, click the 'Land Use' tab inside Modelur and set your parameters in the 'Investment Calculation' section. Currency can be changed under 'Options', then 'Change Currency Symbol'
Once you have inserted the costs per m2, then click on the 'Survey' tab, and ensure that 'Full' is selected for the Urban Control Survey on Screen.
Now when viewing your model, survey information will be visible on the left side of the screen including the financial estimations for investments and income by building and city block.
This information can also be accessed from the Urban Control Data Table which can also be exported and included in your reports.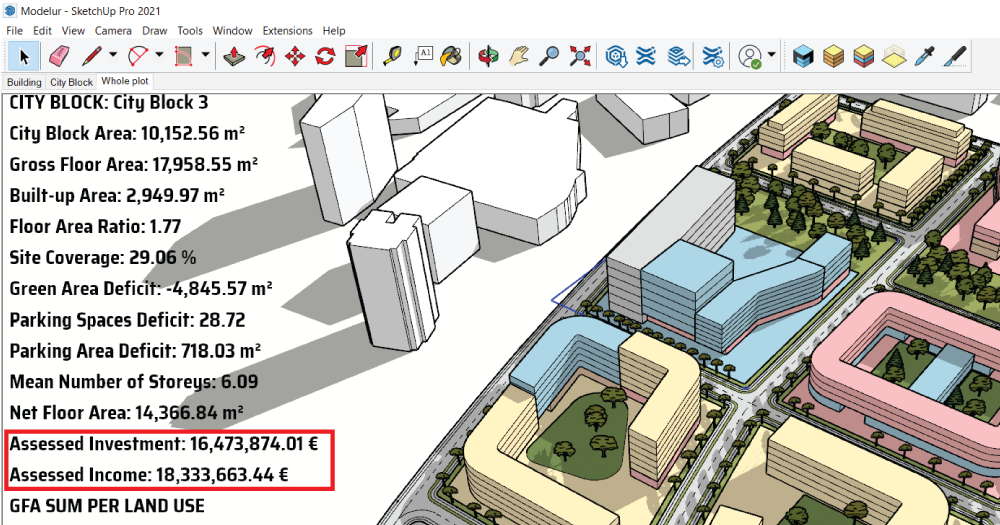 Instant Massing Results For Infinite Solutions
The Massing Generator inside Modelur is a tool to help you quickly create urban massing with a simple click. It randomly populates your city blocks with parametric buildings that follow local zoning ordinances.
In the 'City Block' tab of Modelur, click generate and instantly see a 3D model of the urban massing. If at any time those allowances are exceeded Modelur will alert the user by turning the city block red.
This feature allows you to quickly test combinations by adjusting parameters such as the distance between buildings, min and max heights, and site coverage. There is also the potential to test various outcomes by mixing land uses.
The Massing Generator encourages users to create multiple iterations of a project to compare outcomes or give more options to your client. It is a quick and easy way to do urban massing by city block leaving you with more time to perfect your project.
See the Massing Generator in action in the video bellow:
Required Parking Estimations Instantly
As if all those features were not enough, Modelur can also provide instant parking requirement estimations for your projects based on the structure's assigned purpose. The customization options allow for different settings for specific land uses which can become helpful when dealing with complex city blocks with mixed uses.
In the 'Land Use' tab of Modelur, select the land use you want to define. Then select the 'Primary Unit' (Apartment, Office, Commercial) and 'Secondary Unit' (Residents, Workplace, etc.). The option to determine the Gross Floor Area or Net Floor Area of each parking space, or how many per Primary or Secondary Unit, and the average size per parking space is also available.
Based on the project's parameters, Modelur will then include these calculations in your model and in the Urban Control Data Table. No more manual calculations to produce parking estimates for your projects.
Pro tip: Quickly create an above or below-ground parking lot with Modelur's Massing Generator inside SketchUp.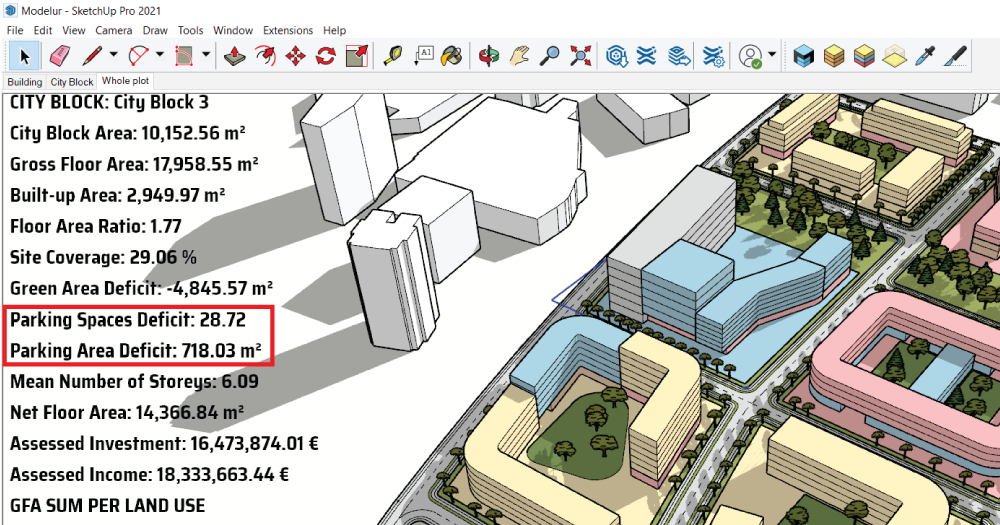 Take advantage of Modelur's real-time calculations for urban planners and designers inside SketchUp
If you find yourself thinking about the endless possibilities and time gained by using Modelur then why not take it for a spin?
Urban planners, designers, and architects agree that Modelur has cut back on the time required per project resulting in happier clients and more time to invest in your business. Testimonials from our customers share their appreciation for the real-time calculation features stating that it takes away the burden of endless calculations, allows for multiple iterations to be created quickly, and makes complex projects much more manageable.