Modelur has done it again! A brand new feature has been launched and we can't wait to share it with you. Introducing the Massing Generator in Modelur. Quickly and effectively test different scenarios that comply with local regulations.
The Massing Generator is a tool that helps to visualize possibilities for your projects by generating scenarios within set boundaries. Once you are satisfied with the rough design, Modelur's parametric functionality will help refine the final product to a high-quality model.
One of the key benefits of the Generator is its efficiency. Today we will look at four features that can save you hours of work on every project.
1 Quickly test combinations of FAR, site coverage, and maximum height
One of the best time-saving features of the Massing Generator is the ability to test different combinations of city blocks' regulations. Instantly, you can generate a new set of buildings that reflect any changes made to FAR (floor area ratio), site coverage, or maximum building height.
Not satisfied with the result? No problem. Just repeat the process with different combinations until you are.
A key benefit of this feature is that it can help to prevent mistakes in the design process that can lead to new developments that are not suitable for part of a neighborhood. Modelur will alert you if any local regulations are exceeded so you can design with ease.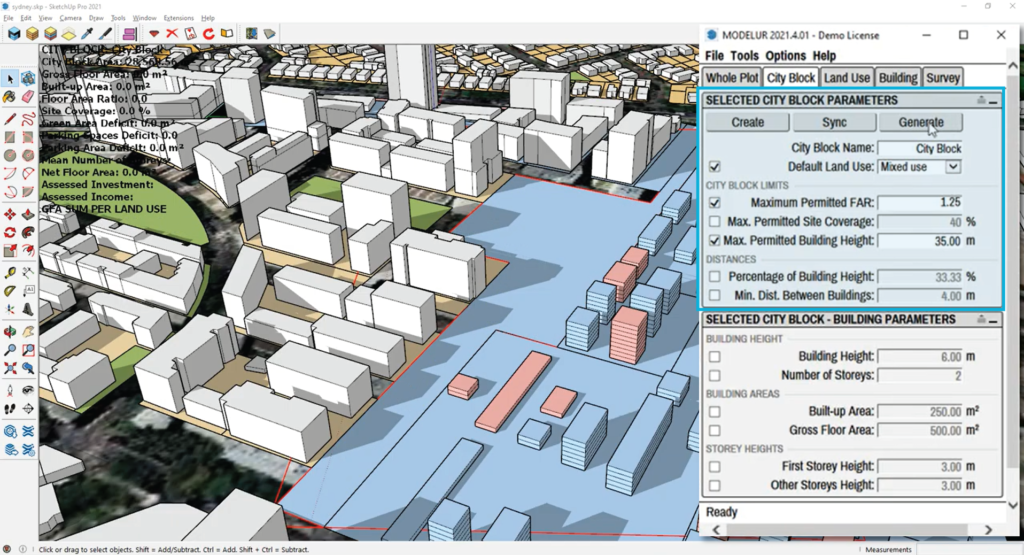 2 Populate city blocks with buildings instantly
Before the Massing Generator, it could take hours to populate city blocks with buildings. Painstakingly creating each individual building and ensuring that it matches local regulations.
Now, in Modelur, urban massing takes seconds. With a simple click of a single button, your city block will be instantly populated with buildings.
There are countless possible solutions that can be achieved by adjustments to the Massing Generator options.
Massing Generator options
City block setback
Distance between buildings
Minimum building width
Maximum building width
Maximum building length
Massing strategy (Max height/Min site coverage vs Min height/Max site coverage)
The massing strategy allows for two different options; maximum heights with minimum site coverage or minimum height with max site coverage. In other words, you can use a strategy that populates city blocks with higher buildings and provides more open space, or one that generates lower buildings but offers less room for open space.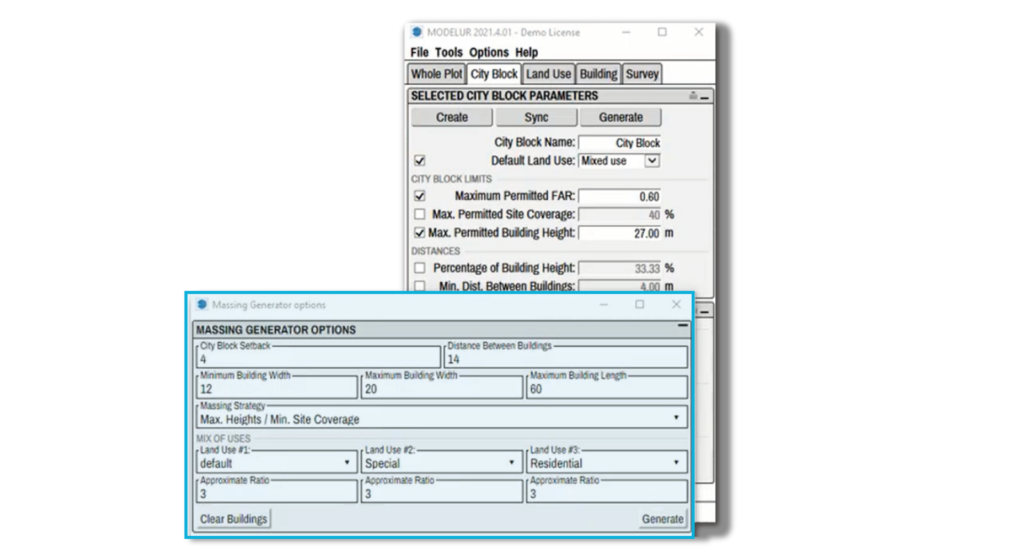 3 Access existing regulations in a single click
When working on a project, there can be hundreds of pages to explain local zoning rules, which can become tedious. The idea behind Modelur is to convert these rules into something that allows you to design quickly while staying within the boundaries.
Official limits on density (FAR, building height, or site coverage) can be imported into Modelur and thus integrated with the Massing Generator. If you make any adjustments that go beyond those limits, the city block will turn red.
With this visual representation of the rules, you are able to create with more ease and focus on the task on hand with confidence.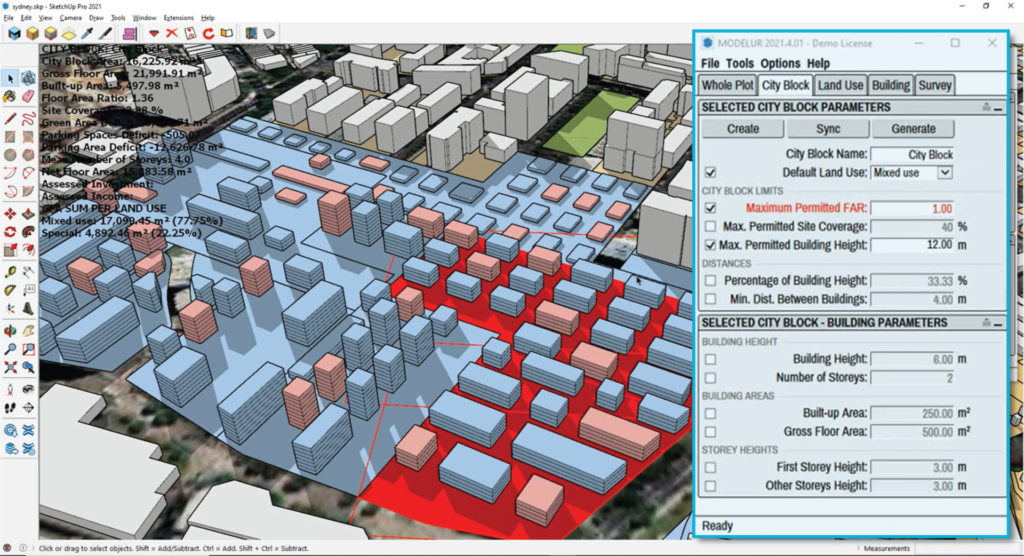 4 Test potential outcomes of mixing uses
Now you know that we can quickly test combinations, populate city blocks, and comply with local zoning regulations, but that isn't everything the Massing Generator does. It also allows for the testing of outcomes for different combinations of mixed-use.
You can create multiple scenarios for a project by adjusting the number of apartments, offices, or shops in a city block. In a single click, the entire landscape of a neighborhood can be reimagined in endless combinations.
In the Massing Generator options, add a new land use (residential, commercial, parking, mixed-use, etc.). For now, there can be up to 3 different uses selected at once and the approximate ratio defined. Buildings will reflect their use by color so the visual representation is readily available. In future releases, we will add a custom number of uses that can be added.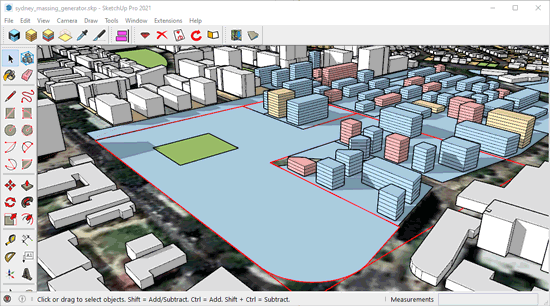 Get started with Modelur today!
The Massing Generator is a tool that we designed to quickly populate buildings into your projects so you can focus on the important things and less time on the basics.
We are confident that Modelur can improve your workflow and invite you to take it to a test drive with a free trial (no credit card required).
Design your projects with confidence, ease, and precision.